A FALCON-EYED VIEW INTO YOUR OPERATIONS.
With intelligent and actionable snapshots of your stock delivered directly from the pen to your dashboard, FALCON® Biomass provides you quick access to the data and insights you need. From wherever you are, and whenever you need it.
Built with more than 15 years of biomass estimation experience, the best part is the peace of mind you'll have knowing that accurate measurements are collected with higher efficiency and without added stress to the fish in your pen.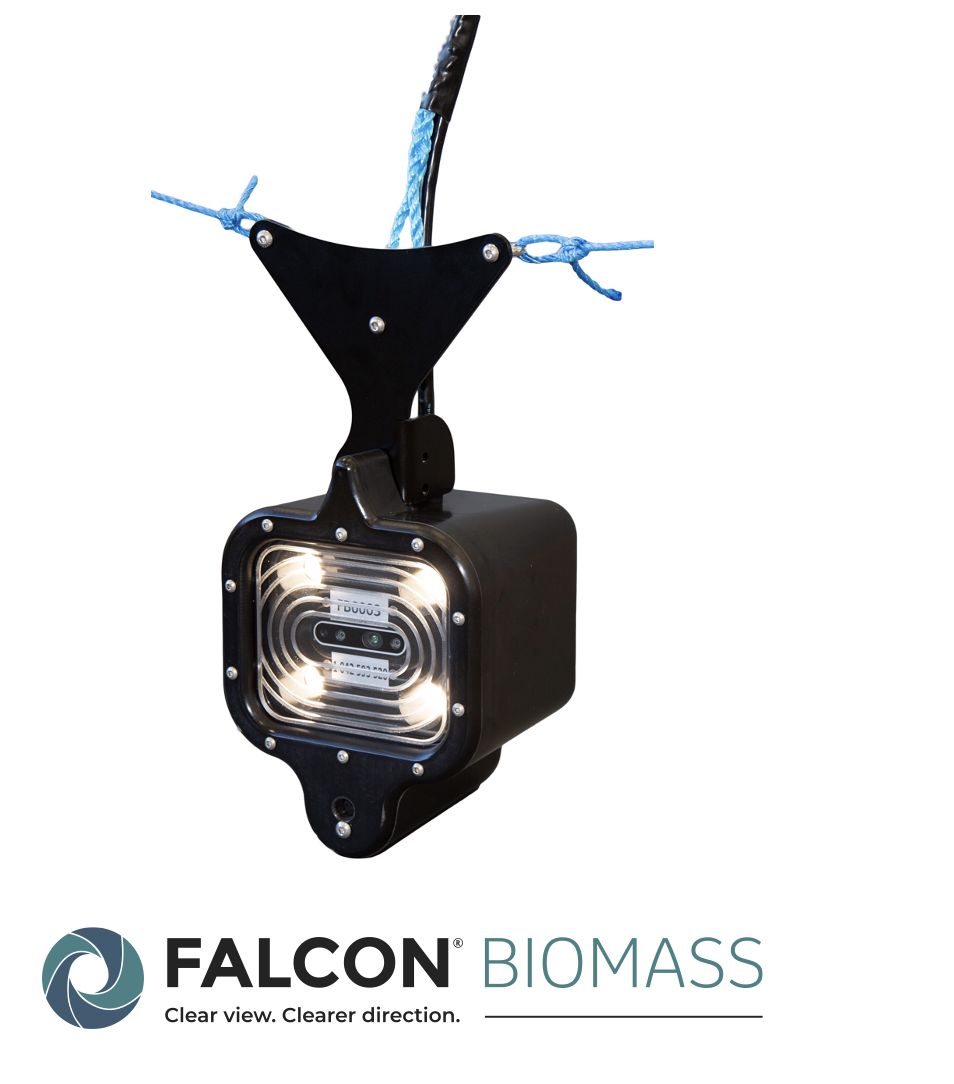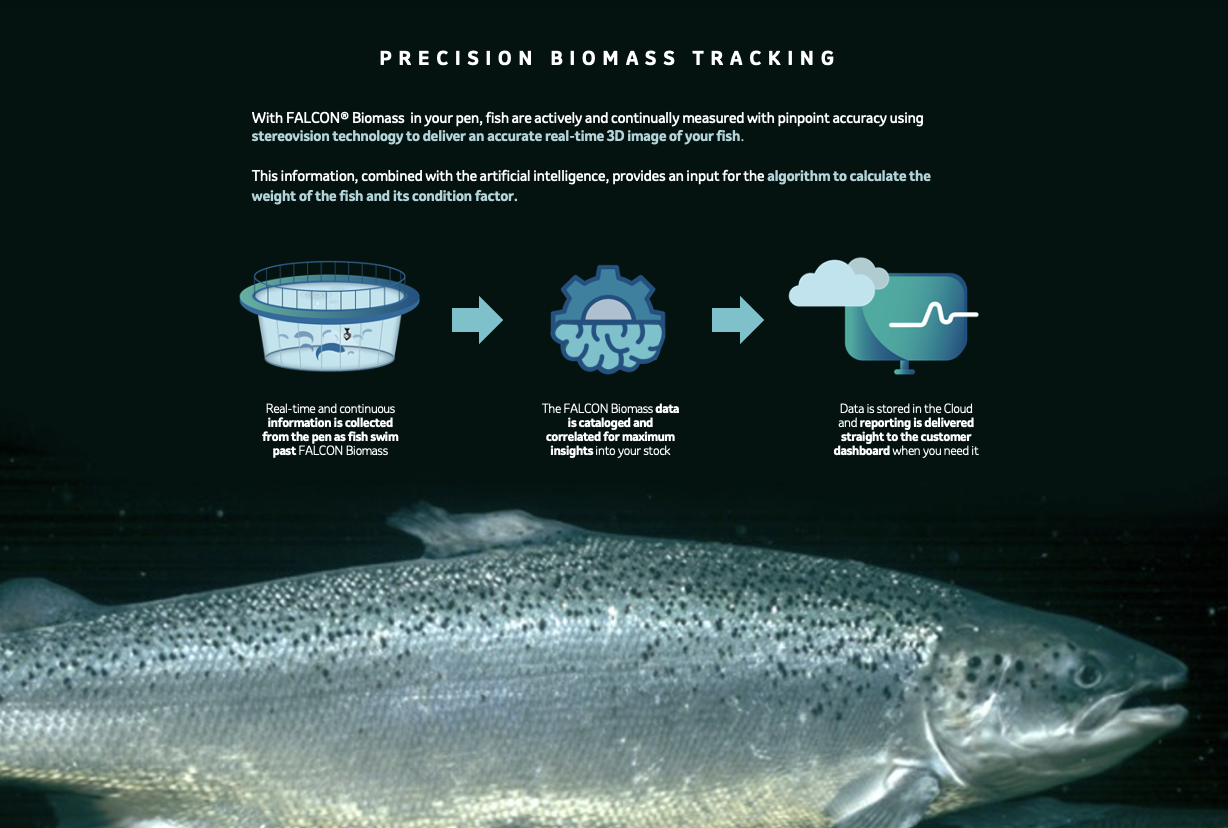 REAL-TIME, 24/7 INSIGHTS
Precise biomass tracking in each pen +/- 2%
Larger samples, more accuracy
Wireless data transmission
Single dashboard for all cages
Daily information on average weight, growth and size distribution
Continuous measurements, 24 hours, 7 days a week
OPTIMIZED DECISION MAKING
Automatic reporting
Simple and powerful analysis of data
All data accessible online – whenever and wherever you need it
Select optimum cages and dates for harvest
Optimize grading and splitting
HARVEST PLANNING
Through monitoring the biomass over a duration, and comparing the environmental factors and size distribution, your operations benefit from:
Improved resource and logistics management for harvest and processing
Reduced feed expenses with enhanced feed management and FCR
Increased feed medication treatment efficacy with better dosing and application
OUR LEGACY IN SCIENCE
Science is the foundation of our technology
Industry leader for 30 years in Biomass estimation
Affordable biomass technology scaled to your needs – with future vision & functionality built in
Reduced stress and negative impact on fish welfare and feeding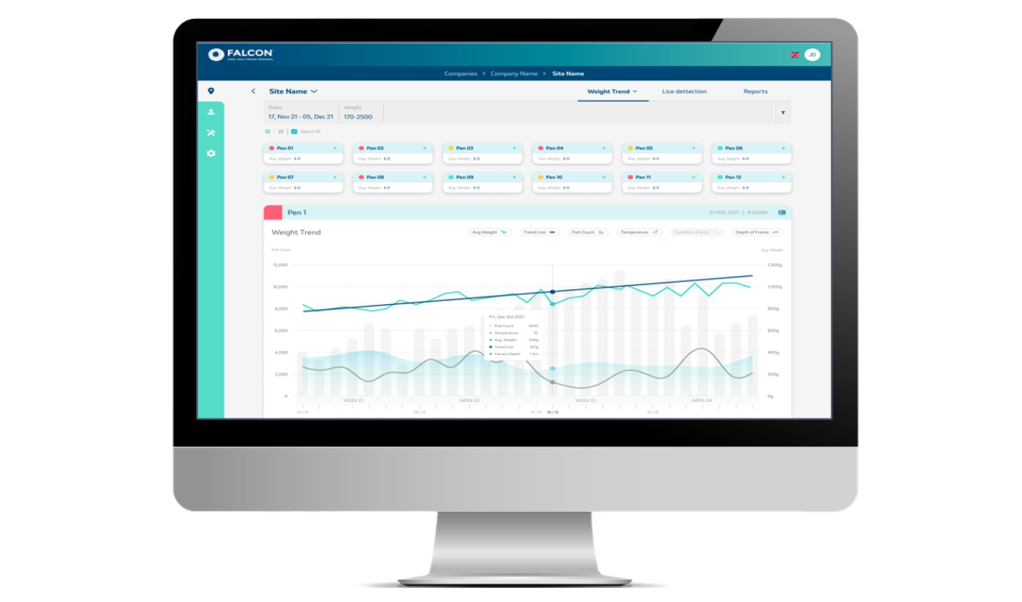 BIOMASS MEASURING DAY & NIGHT
FALCON® Biomass measures 24/7, ensuring that the measured fish are a good mix from the whole population in the pen. That data is then reported directly to your FALCON® Biomass Platform to provide you with:
Accurate weight and size distribution to harvest
Lower overall FCR with focus on periodic FCR
Growth monitoring, compared to environmental factors
Information to manage Maximum Biomass Allowance
Growth models with data in near real-time
Insights to make key decisions on grading or splitting
Correct insurance values for internal reporting
Important data shifts in growth rates, FCR, and condition factor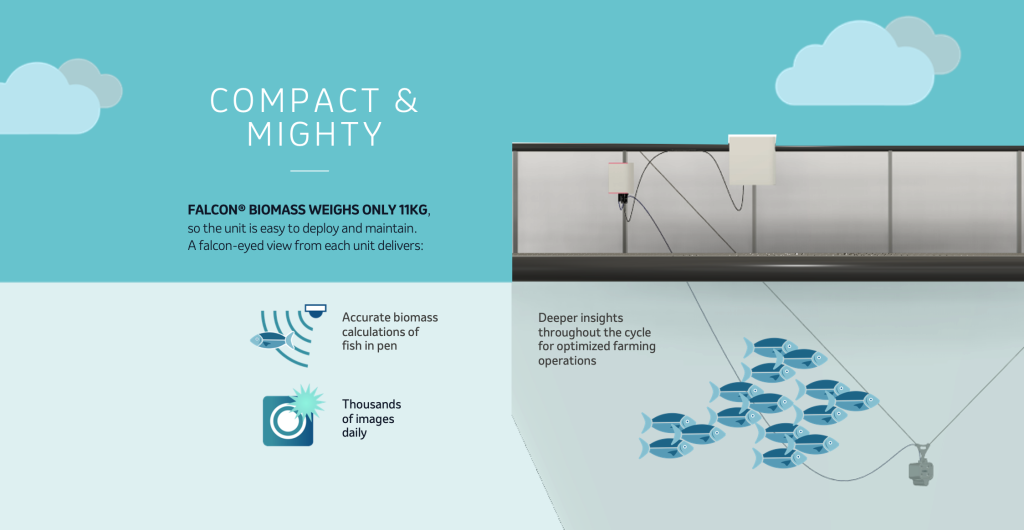 ---